Welcome to the DCHS Counseling Department
TRANSCRIPT REQUESTS: (Depending on the year you graduated)
If you graduated BEFORE 2020, you will need to fill out the image below. This will need to be completed and printed off you, and mailed or dropped off to DCHS (address is listed on the form). There is a $2.00 fee payable by cash, check, or money order only. NO CREDIT CARDS ACCEPTED.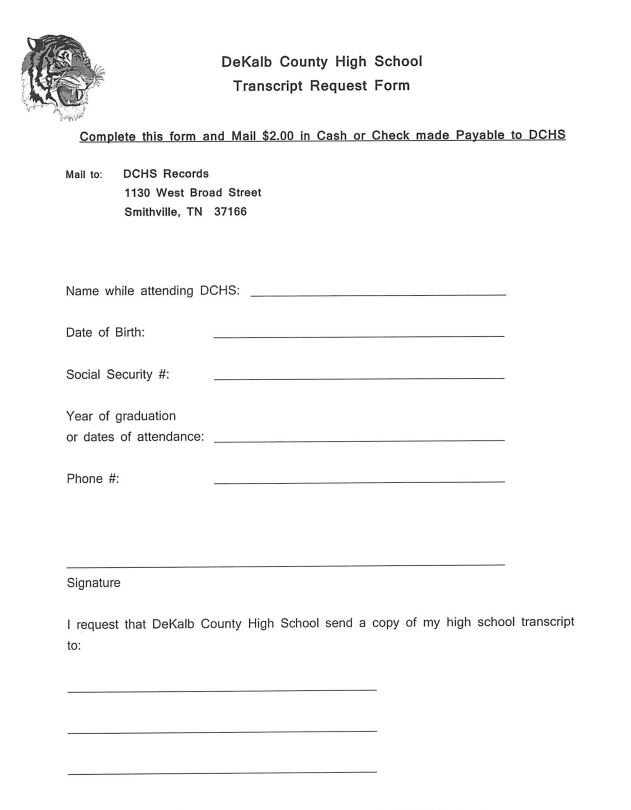 If you graduated
2021 OR AFTER
, you will need to go the link below "2021 Or Later Transcript" and complete the steps listed on the link.
TN Scholars
See Related Files below for more information on:
CollegeForTN College Planning Tool - Hey students. You are eligible to use a great, free resource for high school, college, and financial aid planning. CollegeforTN.org is available to all TN students free of charge. You can use this resource to plan your high school and college careers and find money to pay for college. CollegeforTN also contains ACT/SAT prep, a college search engine that can help you find the right college for you, and links to college websites. Please see the attachment for sign-up information.
Fast Web Scholarship Search Resource
Suntrust Scholarship
Tennessee Concrete Association Scholarship
Scarlett Family Foundation Business and STEM Scholarship
Military Academy Brochure
Governor's School for the Agricultural Sciences Due November 17
All other Governor's School Applications Due November 20
Stan and Thelma Plumlee Scholarship