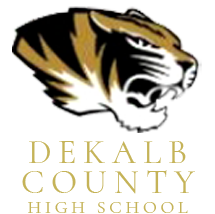 The mission of DeKalb County High School is to challenge, empower, and inspire students to achieve their ultimate potential through academics, various clubs and organizations, and extra-curricular activities. These opportunities will help students develop skills necessary for post-secondary opportunities and to become successful and productive citizens.
INFORMATION ON YEARBOOKS
The 2020 Tiger Yearbook will be distributed to those who have reserved a book at DCHS on Wednesday, June 3 from 10:00 a.m. - 12:00 p.m. If you have purchased your book on layaway, you must pay the balance with CASH when you pick up your book. After 12:00 p.m., the extra books will go on sale - first come, first served, for $85.00 CASH.
(Please click on link below to see list of students who have purchased/reserved a yearbook)

* IF YOU HAVE ANY QUESTIONS, PLEASE EMAIL: debidepriest@dekalbschools.net
CONGRATULATIONS TO OUR SENIORS!
WE ARE SO PROUD OF YOU!!!
HERE ARE THE TENTATIVE DATES OF GRADUATION (TO BE DETERMINED ONCE FEDERAL GUIDELINES HAVE BEEN ESTABLISHED):
FRIDAY, JUNE 19 OR FRIDAY, JULY 17
Follow DCHS on Facebook: DCHSTigers for up to date information
VIRTUAL SENIOR WALK FOR CLASS OF 2020 THROUGH SES