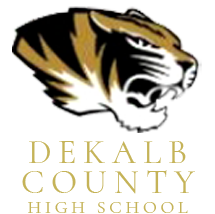 The mission of DeKalb County High School is to challenge, empower, and inspire students to achieve their ultimate potential through academics, various clubs and organizations, and extra-curricular activities. These opportunities will help students develop skills necessary for post-secondary opportunities and to become successful and productive citizens.
WELCOME BACK TO SCHOOL, TEACHERS AND STUDENTS!!!
TEACHERS:
IN-SERVICE DATES AT DCHS:
July 28, 29, 30th: 8:00 a.m.-3:00 p.m.
Attention: DeKalb County Parents and Guardians of DeKalb County Students:
The Parent Digital University video contains information regarding the beginning of the 2020-2021 school year. Parents are required to watch the video in order to complete student registration. Thank you!
PARENT DIGITAL UNIVERSITY LINKS: