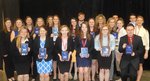 Award Winners
Congratulations to the following DeKalb County High School Future Business Leaders of America members who were successful at FBLA State Conference. Forty Four members, two advisers, and three chaperones attended the conference and represented DeKalb County High School well.
Placing 2nd:
Hailey Walker and Keely McKay-Graphic Design
Ashli Chew and Abby Evans –Hospitality Management
Luke Green-Impromptu Speaking
Max Pafford, Haden Cripps, Kirkland Smallwood- Marketing
Placing 3rd:
Aspen Flarity-Client Service
Aspen Flarity, Sahara Lafever , Anna Malone-Community Service Project
Hannah James-Electronic Career Portfolio
Casey Vickers, Morgan Vickers, Christian Turner, Casey Vickers-Parliamentary Procedure
Callie Cripps-Hard Copy Scrapbook
Hailey Walker-Chapter Annual Business Report
Madison Mick-FBLA Principles and Procedures
Placing 4th
Rachel Fuson and Sarah Anne Colwell-Banking and Financial Systems
Trey Fuston –Business Law
Kyra Slager-Health Care Administration
Bailey Redmon-Future Business Leader
· Braxton Pugh received Dr. Bill Radcliffe Scholarship for $500!
· Destiny Franklin was named as Region 5 secretary .
The DeKalb County High School Chapter of FBLA received the following awards:
Club 100 for 175 members.
Chapter Gold Seal of Merit
1st place Literacy award for collecting 3,285 books that stayed right here in DeKalb County.
Recognition for March of Dimes contribution and donation to ALL state scholarships